Mobile Check Deposit is Here!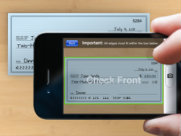 Mobile Deposit is Financial One Credit Union's newest way to bring the credit union to you. It's an app-based deposit solution that lets you deposit paper checks by taking photos of the front and back with a mobile device, directly to your Financial One checking account.
Summary

It's easy to set up!




1. Download Mobile App

Android Device

Search for "financialone" in Play Store or click here.

Apple Device*

Search for "financial one mobile deposit" or click here.

*Apple devices may require iTune credential to download the app.




2. Sign Up for Mobile Deposit Capture

Open Fin1 Mobile App.
Tap Sign Up.
Read through the agreement.
Tap "I Accept" at the bottom.
In the User Information page, complete the following fields.
First Name
Last Name
Phone Number
Last 4 digits of SSN/Tax ID
Email
User Name
Password
Confirm Password
Account Nickname
Account Number
Enter the security characters as shown.
Click Submit.
The system will display the following message on the screen.
"Thank you for enrolling. We will contact you in 1-2 business days."
Once approved, the system will automatically send the following message:
"Thank you for choosing our app. You have been accepted as a new user."




A member may request access to Mobile Deposit Capture (MDC) only by downloading our MDC app and accepting the end user license agreement. All MDC approved applicants will have the following limits: Max Amount Per Deposit of $1,200, Max Amount Per Day of $1,200, Aggregate 30 Day Limit of $5,000 and a Max Items Per Day of 5. Any member requesting a daily limit above this limit will be reviewed manually. At the members' request, Financial One will review an updated credit report, deposit and account history with the credit union, and any other information deemed necessary at that time to qualify for the higher limit. Regular check holds may apply.