Financial Education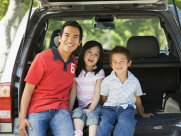 At Financial One, we strive to continuously educate our members and our staff so that together we can make the best decisions to help meet your short term and long term financial goals. We feel it is our responsibility to help provide the accurate financial knowledge that you need to succeed in every area of your financial life. Below are some of the topics that we feel are important for us all to be familiar with. If you have any questions on the topics below, please don't hesitate to contact us so we can help.
How is a Credit Union different than a Bank?
How can I receive a free copy of my credit report?
Surprising facts about your credit score.
Free Financial Counseling with Financial Choice
Financial One Credit Union is teaming up with LSS Financial Counseling to bring our members six free financial counseling sessions. Counseling is confidential and tailored to meet your specific financial needs. Whether it's clarification questions or just getting yourself on a positive financial path -- let one of our financial experts help!
Counseling is available in-person, by phone, or online. Contact us for more information on how sign up for your free financial counseling sessions or visit LSS Financial Counseling's website.